One-on-one Skype Lessons

lasīt latviešu valodā


Русский
Skype Lessons Availability in English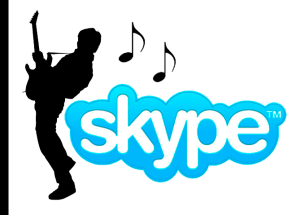 Distant learning through webcam has been around for many years now. Thousands of people worldwide have the opportunity to obtain various course qualification assessments, academic degrees, and certificates by means of internet sessions. Hence, the effectiveness of such a way educating is indisputable. Needless to mention Skype lessons that are aimed at one's leisure or hobby.
If you live far away from Latvia and are interested in taking my lessons, then Skype option is apparent to you. Moreover, it's quite fascinating to communicate with people around the world, rather that taking lessons from someone in your area. Did I mention ridiculously low price rates? All that combined with my passion for teaching, 10 years experience of part-time teaching, skills and knowledge gives you a great opportunity! It is always a great joy for me to teach someone who's having passion for music just like me. For those seeking for answers beyond just playing technique, those who wanna know "why" music is so powerful and how do I play with quality and expression. Be sure, you've come to the right place.
Things I'm using to deliver the utmost quality signal. :
webcam: Logitech c905 (720p HD video stream)

audio : I'm playing through Fractal AxeFx Ultra and using external SHURE mic.


All sound runs direct to the line-in input to ensure high sound definition and clarity.
If, by any chance, you came here browsing Google, and don't know anything about my guitar playing, please visit my YouTube Channel.
LESSONS CURRICULUM:
Guitar

Acoustic Guitar for beginners – from chord comping to fingerstyle and chord-melody arrangements, in the styles of rock, blues, pop music, jazz-influenced music….
Electric Guitar (at any level) – Rock and Blues, Hard'n'Heavy, Metal, Instrumental Rock, Funk and Fusion. The Programme consists of two major parts:
rhythm guitar (comping technique)
lead guitar (soloing and improvising)
Questions Covered in My Lessons
hand mechanics and control, getting the tone, comping techniques and picking, rhythm awareness and time feel, exercising, legato and picking, coping with common mistakes and flaws, getting a cleaner tone, chords comping techniques…. You'll especially love the course if you like 80's and 90's hard rock music, instrumental rock guitar, blues, jazz standards and modern jazz music styles. 

Course companion – Understanding Music Theory, ear training, The language of Music, Reading notation and score, developing fretboard awareness and visualisation, Intervals and fundamentals of melodic thinking, harmony and chords, Keys and Modes… A very interesting and fascinating course that helps you get all these things down and expand your musicality. Not to mention, these are core elements of guitarist's mastery – composition and improvising.
FORMS OF TEACHING:
(pricing offer available till March 31-2019)
а) Flextime one-on-one Skype Lesson (floating time schedule)
.
1-hour lesson
–

€ 25

.
Having a busy diary or other reasons not allowing to stick with the programme consistently? However, there are issues in your guitar playing you'd like to resolve and don't have time browsing the internet seeking for answers. Then this type of lesson would be a perfect option! You choose a topic of discussion yourself (prior to booking a lesson) and I deliver a one-on-one session to you (somewhat close to guitar clinic or masterclass). Technically, during sessions I use all the devices needed to explicitly deliver information to you (screen demo, with tabs, notations, scale diagrams, chord charts). However, I am not giving you any home assignments to complete by the next session. The information is limited to video session, where I'm answering your specific questions.
You decide when to book your next lesson, which can either be another topic or to continue your presently selected one. Your chosen subject might be anything from understanding some theory and ending up to a specific song or a riff. To cut it short – you have specific questions and need someone to answer them, I'll be there ).
To cut short, this lessons format is the best option, if you:
know the fundamentals at least on the very basic level (how to tune you guitar, hands position, tabs…)

like what you see and hear on my YouTube channel or Soundcloud (we share the same taste)
occupied with business and play guitar for fun, hence can't afford learning things systematically on a regular basis.
If your goals are more complex and you have time for home assignments to complete and your schedule allows following the program consistently, you might consider purchasing one of the following lesson packages:

b) Month plan 4 x 1 hour lessons

For intermediate to advanced level. You may want to focus on one specific subject (either theory and ear classes, or playing technique), but don't need plenty of time to dive in. This package includes all the necessary methodology (e.g. Notations and tabs, PDF, guitar pro, texts, audio and video) that I will send via attachments to email, or by Skype if needed as complementary resources to our study.
* Payments to be made in advance. You cover all possible banking fees. Four lessons must be used within one month. Read more in Terms & Policy.


c) VIP Month Plan – 4 x 1.5 hour lessons
If you are
1) a beginner player, seeking for full course coverage,
2) you feel motivated to invest more time and effort to study the art of guitar in more detail:

Price

€ 135

  4 x 1.5 hr lessons

Payments to be made in advance. Four lessons must be used within one month. Read more in Terms & Policy.

TIPS & THINGS TO GET STARTED

fast working internet connection (20Mb plus)


a webcam  with at least 360p video streaming capability.

a mic (external mic through a USB sound card would be the best solution).

Zoom or Facebook messenger.
OK THEN. SO HOW DO I BOOK YOUR LESSONS?
1)  drop me a message providing your basic data (name, age, location…), telling about your goals, and what teaching format (flex or month plan) you prefer and why. Include  'Lessons'  in the subject box. Or you can hit me up directly via skype (Aleksandrs Karimovs). By applying for my lessons, you hereby confirm to have read and accepted my Terms & Policy.
2) By receiving your message, I will get in touch with you within 48 hours for a test session. A test session is needed to make sure we have a clear video/audio connection. We can also have a short discussion about our teaching plan and things you will need for the lessons. It usually takes up to 30 minutes

3) Then, upon mutual agreement, you make payment. Once your payment is received, I'm contacting you to schedule the first lesson!
Should any questions still arise drop me a message, or hit me directly on Facebook or skype ("Aleksandrs Karimovs", Latvia)